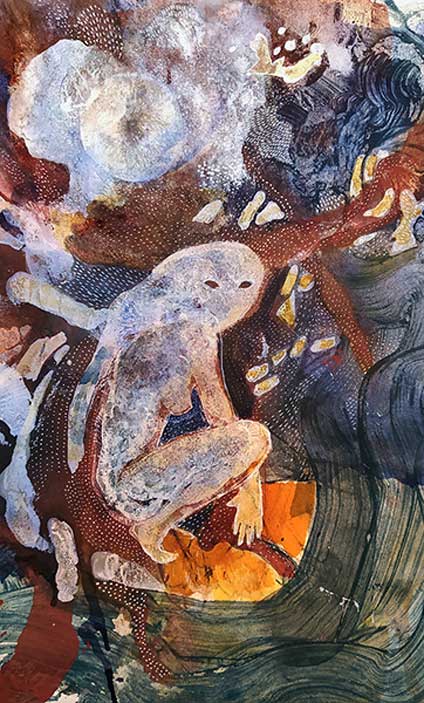 Céline's art work is a magical experience of discovering Beings and their worlds within a barrage of chaos that we would not have found if it weren't for her amazing ability to reveal it for us. But this reveal is not at all a definitive stamp of what we should see; the Artist is showing us one possibility while leaving many more worlds to be discovered on our own.
We are excited to have Céline present at her opening reception so you may meet her and ask the artist herself the myriad of questions that her work will likely provoke. ~Anno Domini
After many years as a Set Designer in the theatre, I started painting in response to some difficult and traumatic events in my life. I'm exploring the complexities of womanhood and my own personal experience as a human being, attempting to balance my unconscious visual response with the material world.
This body of work attempts to capture and map my interior landscape. I have Synesthesia, which means that neurologically, information meant to stimulate one of my senses stimulates several of my senses. This can also be described as an intertwining of senses, giving my perceptions of the world an added dimension. Colours and shapes often appear as sounds to me so when I'm painting every artwork has an accompanying soundtrack.
What started as an expression of my most intimate emotions has evolved into something akin to a meditation or a trance state where I allow the subconscious mind to determine the outcome of each work. The key consideration for me is to feel or inhabit the work without intellectual or critical intervention, channelling the organic, human, and animal forms that populate my oeuvre.
I exist in the contemporary world but I am seeking a lost connection to the primal, natural state that is devoid of critical thinking or theory.
Artists I repeatedly turn to include Ana Mendieta, Hilma af Klint, Georgia O'Keeffe, and Seraphine de Senlis, all of whom have a deep connection with the natural world and a lineage to ancient cultures. I feel a deep kinship with the work of primitive, unknown artists that expressed their creativity on the walls of caves or rock faces throughout the world.
"The pictures were painted directly through me, without any preliminary drawings, and with great force. I had no idea what the paintings were supposed to depict; nevertheless I worked swiftly and surely, without changing a single brush stroke." ~Hilma af Klint
About the Artist:
Living in the Nantes area of western France, Céline Lyaudet was surrounded by art her whole life. She would watch her father, an artist as well, paint and sculpt from a young age. It came as no surprise that C. Lyaudet's path naturally led to becoming an artist herself.
In 2002, C. Lyaudet graduated from Ecole Supérieure des Beaux-Arts de Cornouaille in Quimper, France. (majoring in Set Design). But it wasn't until 2020 where she could finally call herself an artist she has only just embarked on a new creative journey and she intends to embrace every aspect of it, without any limitations in practicing techniques or mediums and no obligations to limiting her art to a specific style. C. Lyaudet's driving force is inspiration, experimentation, discovery and curiosity.
Studying scenography and having a history in performing arts has influenced the composition of C. Lyaudet's paintings. There's movement and gesture in the subject, as if she is performing for the viewer.
C. Lyaudet's intricate ink wash technique involves washing and drying each layer of colour before moving onto the next. To create each layer, mediums vary from acrylics and watercolour inks to wood ashes, squid ink or indian ink.
Figurative-abstract paintings express a certain depth and emotion that steams from an unconscious imagery. Her creations question the definition of femininity: what about its symbols and how is it represented on both a personal scale and universally. These themes are conveyed through a vector of energy that are inspired by Nature and life forms.

"Map to the Path" is C. Lyaudet's debut solo exhibition.
VIEW & PURCHASE AVAILABLE WORKS ONLINE
Opening reception: First Friday February 4th, 5–9pm
Exhibition dates: February 4–March 12, 2022

Gallery hours:
Thursdays & *Fridays Noon–7pm, (*First Fridays 5-9pm)
Saturdays Noon–5pm