FRESH PRODUCE
9th Annual Invitational Group Exhibit and Art Sale!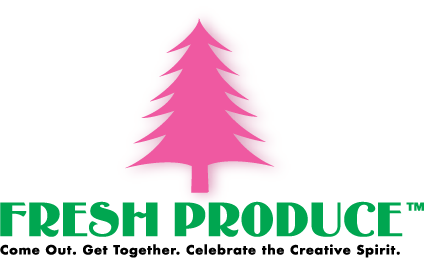 50 artists from around the world have created hundreds of works of art for this highly anticipated annual exhibition and sale. These artists were invited based on their unique artistic vision and contribution to urban/contemporary arts and culture. Each artist has submitted up to 10 works of original art, all affordably priced at $250 or less. Art work is sold on a first come, first serve basis so don't be late!
Exhibition & Sale begins: First Friday, December 4th at 8 pm
Doors open at 7 pm for preview
Admission is free and open to the public


Participating Artists:

1911, Rimini,Italy
Aitch, Berlin, Germany
Alexandre Anjo, Santo André, Sao Paulo, Brazil
Miguel Arias (Argumentativa), San Francisco, CA
Christine Benjamin, San Jose, CA
Scott Bergey, Toronto, Canada
Benjamin de Brousse, Paris, France
Cake, New York, NY
Mia Christopher, San Francisco, CA
Kimberly Cook, San Jose, CA
Don John, Aarhus, Denmark
Dimitri Drjuchin, New York City, NY
Danielle Duer, Nashville TN
Bill Dunlap, Cumberland, MD
Mike Egan, Pittsburgh, PA
Kiersten Essenpreis, Brooklyn, NY
Lia Fenix, Sao Paulo, Brazil
Katelan Foisy, Astoria, NY
Foma<3, Tel Aviv, Israel
Curro Gómez, Mexico City, Mexico
Andy Gouveia, San Francisco, CA
Alvin P. Gregorio, Boulder, CO
Keith Greiman, Philadelphia, PA
Know Hope, Tel Aviv, Israel
Jean Spezial Collective, Paris, France
Mitchell Kehe, Brooklyn, NY
Alfonso Kellenberger, CA
Julian Kimmings, Chester, Cheshire UK
KLONE, Tel Aviv, Israel
Daniel Jesse Lewis, Oakland, CA
Jeremiah Maddock, New York, NY
Devin McGrath, New York, NY
Wendell McShine, Mexico City, Mexico
Ginger Markley, Berkeley, CA
Binho Martins, Americana/Sao Paulo
Crystal Morey, Oakland, CA
Gabby Nathan, Tel Aviv, Israel
Virgilio Neto, Brasilia, Brazil
Rodrigo Obranco, Sao Paulo, Brazil
OZI, Sao Paulo, Brazil
Kyle Pellet, San Jose, CA
Roseau, Lorient, France
Blaise Rosenthal, Santa Cruz, CA
Saddo, Berlin, Germany
Mario Scorzelli, Buenos Aires, Argentina
Amanda Spicer, Calgary, Alberta, Canada
Barron Storey, San Francisco, CA
Various & Gould, Berlin, Germany
Porous Walker, Owltooth, CA
Jerry Waese, Toronto, Ontario, Canada
Jake Watling, Oakland, CA, USA
Derek Weisberg, Oakland, CA
Paola Zakimi, Villa Giardino, Cordoba, Argentina
Zero Cents, Tel Aviv, Israel


Exhibit on view through January 9, 2010 A.D.


Gallery hours:
Tuesday-Friday Noon-7 p.m.,
Saturdays Noon-5 p.m.
additional hours by appointment

Anno Domini
366 South First Street
(btwn San Carlos & San Salvador) map
San Jose, CA 95113
t: 408.271.5155


Art • Music • Performance • Life

Get Together.