Anno Domini presents...
a solo exhibition by Jeremiah Maddock (Brooklyn, NY) entitled, of the sound made that tasted just like the look of the recordings from the smell that sounded and felt like those drawings.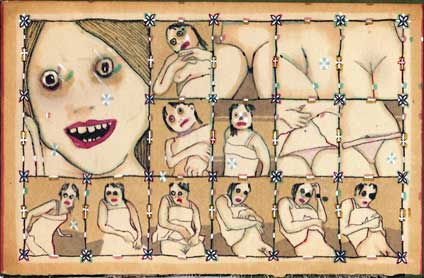 Using found aged paper as a receiver of the inks he mixes from dead pens and markers, Jeremiah renders haunting visual vignettes of his everyday personal experiences.

View exhibition photos from Jeremiah Maddock's installation and Opening Reception:

Artist's Reception: First Friday, February 6, 2009
8pm til late, free and open to the public
Music by DeatHat

Exhibit on view thru March 21, 2009 A.D.

Gallery & Store Hours:
Tuesday through Friday, noon - 7 p.m.
Saturday, noon - 5 p.m.


Gallery hours:
Tuesday-Friday Noon-7 p.m.,
Saturdays Noon-5 p.m.
additional hours by appointment

Anno Domini
366 South First Street
(btwn San Carlos & San Salvador) map
San Jose, CA 95113
t: 408.271.5155


Art • Music • Performance • Life

Get Together.