galleryONE: A Sea of Shadows and Reflections, Joseph Loughborough (UK) solo exhibition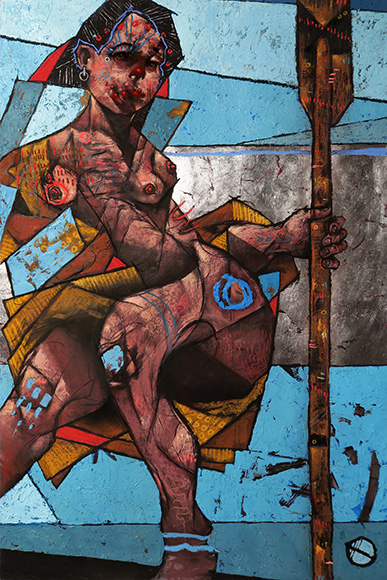 It's been a strange time for everyone. A few of us may have found ourselves with a little more space to contemplate the past and the possibilities of the future a little more assiduously than in previous years. Memories play an important part of this show.
Proudly presented in this new body of work "A Sea of Shadows and Reflections" Loughborough plumbs the depths of his own recollections. From Paris and Berlin to the pubs and ports of the UKs South Coast, the good, the bad and the ugly find themselves personified in these figurative totems. These renderings aim not to be directly representational in nature but instead strive to imbue an impression of a moment or encounter. Having grown up in a port city, Loughborough's work has always had an affinity with the nautical. The titles of many previous works have often derived from the wrecks and boats left scattered around the creeks and boatyards of Portsmouth. Drawing inspiration from this and iconographic paintings from the early renaissance period he pushes the work into new territories, whilst of course, tipping his cap to the German expressionists.
Continuing the exploration of metallic leaf in his work, he abundantly uses silver in this experimental series. The quietening effect of this cast provokes the pastel and paint to jump from the support. Additionally, its reflective properties change the nature of the work depending on light and surroundings. This playfully mimics the changing character of the sea throughout the day. Its transient ambience also questions the objective value of our own memories and how it can be affected by our immediate location and mood.
About the Artist:
Joseph Loughborough spent his formative years exploring the derelict boatyards and creeks of Portsmouth, on the south coast of the UK. After graduating from Portsmouth University, he pursued interests in art, philosophy and skateboarding culture. Living once again in London after nearly a decade in Paris and Berlin, he works from his studio in Canning Town. "A Sea of Shadows and Reflections" is Loughborough's 4th solo exhibition with Anno Domini.

VIEW & PURCHASE AVAILABLE WORKS ONLINE
Artist's reception: First Friday August 5th, 5–9pm
Exhibition dates: August 5–September 17, 2022

Gallery hours:
Thursdays & *Fridays Noon–7pm, (*First Fridays 5-9pm)
Saturdays Noon–5pm