galleryONE:
MASCOT
, Navin Norling (GA) solo exhibition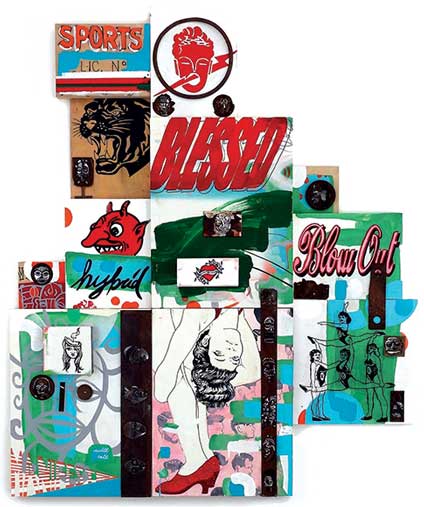 Artist's reception: "MASCOT" Navin Norling (GA) solo exhibition"I create work that is made from remnants of lives once lived and the people who have gone me."
In his ongoing practice, Navin June Norling (b. 1970) examines classic Americana imagery and assembles miscellanea out of popular culture signifiers, sayings, folklore, and materialism.
During his upbringing, Norling would spend summers on his grandfather's farm in California's Central Valley, where all resources were reused without any waste. The impact of that rural setting led him to embrace salvaged components and eventually integrate assemblage and bricolage techniques into his formal training as a painter. But apart from those summers, Norling grew up in suburban California and spent his youth in wild exploration across the Bay Area; part of a generation committed to establishing a personal aesthetic framework, whether in the use of graffiti monikers or wheat paste messaging. He has been vicariously loyal to that urban grit and has maintained a street palette in his work.
The use of found objects and urban detritus plays a large part in his continued investigation of a dynamic American cultural landscape and its sociopolitical nuances. Cast-off wood frequently makes an appearance in the artist's work, like the window panes in Good to the Last Drop (2005) presented at Sculpture Center in New York and in Black Cats (2003), held in the contemporary art collection of the Brooklyn Museum.
In 1995, he received a BFA in illustration from the California College of the Arts. It was here that he first encountered Raymond Saunders, who studied the collage process further reaffirmed his commitment to the found object. He later moved to New York in the early 1990s and received an MFA in fine arts from Hunter College in 2002. This shifting inhabitance across rural, suburban, and urban landscapes continues to shape his long-running survey of the country. More than that, the changes in scenery helped him develop a cheeky lexicon in addressing national issues of power, class, geography, capitalism, and inequality – a sense of humor accessible to varying demographic groups, each with their unique set of sensibilities.
His body of work encompasses paintings, sculptural objects, and installations. melanges of cacophonous iconographies developed from urban graffiti and pop imagery. In his recent work and as an extension of his exploration of bricolage, the artist has been employing a stacking technique to unite disparate, totemic fragments – modular and self-contained – that, when put together, plot out an ambitious, cohesive genealogy of collective Americana chronicles.
Norling lives and works in Atlanta, GA. He is currently a professor of foundation studies at the Savannah College of Art and Design.
MASCOT is Norling's second solo exhibit at Anno Domini.

VIEW & PURCHASE AVAILABLE WORKS ONLINE
Artist's reception: First Friday February 3rd, 5–9pm
Exhibition dates: February 3-April 15, 2023

Gallery hours:
Thursdays & *Fridays Noon–7pm, (*First Fridays 5-9pm)
Saturdays Noon–5pm