Craig LaRotonda and Kim Maria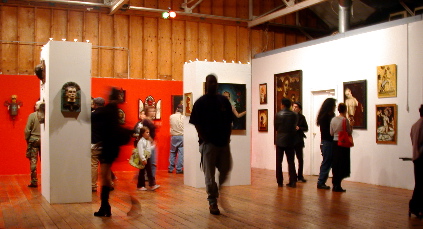 Artists' Reception 100303 A.D.


MEAT CONSCIOUSNESS
the art of Craig LaRotonda and Kim Maria, Revelation Studios

Craig and Kim reside in San Francisco by way of New York. LaRotonda's paintings have been described as "eerie and contemplative," while Marie's intimate works are "uniquely fashioned from a thoughtful selection of various found objects, antique relics, tin-types, bones, insects and organic materials."

This dual exhibition of LaRotonda and Maria's paintings and mixed media assemblage works examine the human preoccupation with the flesh and the struggle to liberate the mind through mysticism, magic and religion.


---

B I O G R A P H I E S

Craig LaRotonda

Craig LaRotonda's sensual artwork graces the walls of private collectors' homes and cutting edge web sites as well as the covers of books and national magazines. His distinctive art appears in the full-length motion picture - "Traffic" 2000 (dir. Steven Soderbergh, starring Michael Douglas) as well as the film, "The Heartbreakers" 2000 (w/ Gene Hackman and Sigourney Weaver.) His work is particularly known in the film community where private collectors include director Michael Lindsay-Hogg and actors Gedde Watanabe, Kirsten Dunst and Johnny Depp.

Craig's influences include the internationally renowned illustrator Alan Cober, with whom he studied at S.U.N.Y. at Buffalo where he received his B.F.A. in Art. After 10 years of working as an artist on the east coast, Craig and his partner, Kim Maria moved to San Francisco where they opened the intriguing and exotic, Revelation Gallery. LaRotonda's eerie and contemplative paintings have been exhibited at galleries in Hollywood, New York, Detroit, Santa Monica, Atlanta, Buffalo, Scottsdale and San Francisco.


Kim Maria

Kim Maria, a self-taught assemblage and collage artist, was born in Western New York and now lives in San Francisco, California where she founded the unusual Revelation Gallery in 1998. Kim now spends time working at Revelation Studios where her recent work includes a series of mixed media assemblage sculptures . Kim Maria's intimate works are uniquely fashioned from a thoughtful selection of various found objects, antique relics, tin-types, bones, insects and organic materials. In her skillfully layered compositions, Maria intrigues her viewers with pieces that are thoughtful and intimate, whispering about the past.

Maria and LaRotonda's collaborative sculptures have been purchased by various private collectors including actors Gedde Watanabe and Kirsten Dunst, as well as director Michael Lindsay-Hogg, music producer Craig Fruin and appear in Universal Pictures Feature Film Big Fat Liar. Maria's work is in perminant installation in Los Angeles' famed La Luz de Jesus Gallery and will be on exhibition at Anno Domini Gallery October 2003.


Anno Domini presents
MEAT CONSCIOUSNESS
the art of Craig LaRotonda and Kim Maria
opens First Friday October 3, 2003
8 p.m. 'til late
admission is free
exhibit: October 3-31
hours: M-Th Noon - 5 p.m.
additional hours by appointment
call 408.271.5151
map to Anno Domini

Get Together. enlist today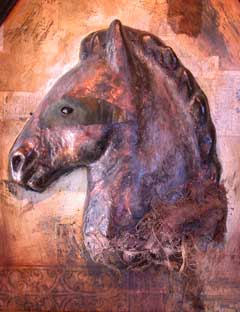 detail