galleryTWO:
EMBLEMATA
by Travis Lawrence (PA) solo exhibition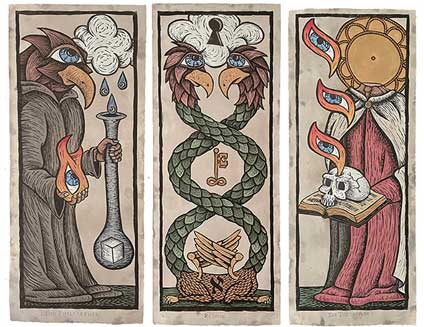 Through the art of printmaking, Travis Lawrence creates illustrious allegorical imagery inspired by the mythical and the arcane. Influenced by medieval alchemical manuscripts and illuminations, each symbolic print is an emblem of mystery and metaphor. The viewer is invited to explore the content of these hand-painted prints through a contemplative interaction with the represented archetypes.
About the Artist:
Born and raised in a Midwest religious upbringing, Travis opened his perspective to the interaction with ideas greater than and/or within oneself. He utilizes the art of creation as an act of opening doorways and manifesting these ideas through symbolic narrative. Similar to alchemy, printmaking can be used as a meditative procedure of transforming the mundane into higher states.
EMBLEMATA is Lawrence's second solo exhibit with Anno Domini.
VIEW & PURCHASE AVAILABLE WORKS ONLINE
Exhibition dates: September 2–October 15, 2022
Opening reception: First Friday September 2nd, 5–9pm
Exhibition dates: September 2–October , 2022

Gallery hours:
Thursdays & *Fridays Noon–7pm, (*First Fridays 5-9pm)
Saturdays Noon–5pm