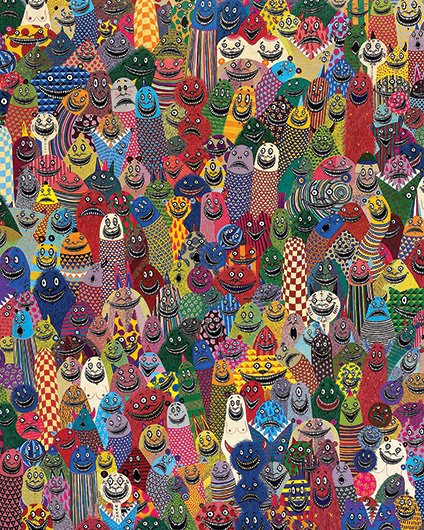 "I AM BACK!" Yoshi47 (Japan) solo exhibition
San Jose is the place where I started becoming an artist, showed my works and did live-painting for the first time in this city. This series of my works are all combined old and the latest works together, so that people can at least see my path and process of being where I am now.
Each era has its own story, and the recent concept is about "Texture", "Nature", and "Imperfection". These are the words that I always care about to pursue the way I express the beauty. Texture has its own cultural background and it is sometimes shows us deep inside with a unique balance with colors and design. Nature tells us how severe and sweet the world is. Imperfection shows how lovely the human beings are. These 3 words are the spine of my art inspiration.
About the Artist:
Yoshi47 (b. 1981, Gifu Prefecture, Japan)
At the age of twenty, Yoshi47 moved to California, U.S.A. to pursue an art career. He spent four years in the Bay area doing live painting and participating in both solo exhibitions and art events. While living in San Francisco, he discovered a small group of avid bicyclists and became a bike messenger. It was through his experience as a courier that he found his essence of life and the conceptual basis for his art.
In 2006, he returned to Japan. Initially he lived in Tokyo, where he continued to work as a messenger and became involved in the bicycle industry. He eventually relocated to Kariya City for two and a half years to focus on his artistic and business endeavors. In 2010, he spent eight months in Tochigi and afterward returned to Tokyo.
He is involved in art curation, graphic design, and collaborative projects with companies such as NIKE, SWATCH, VANS and more. He continues to exhibit his artwork worldwide such as Australia, China, America, Canada, France, Mexico, Sweden, and Taiwan. He currently resides in a country side, Atsumi Peninsula in Japan, where he can bike, surf, fish, camp and snowboard.
Opening reception: First Friday May 5th, 5–9pm
Exhibition dates: May 5–June 18, 2022

Gallery hours:
Thursdays & *Fridays Noon–7pm, (*First Fridays 5-9pm)
Saturdays Noon–5pm