galleryTWO:
Illuminate the Wolves:
A Tribute to the Life and Work of Zack Luchetti (1973–2021)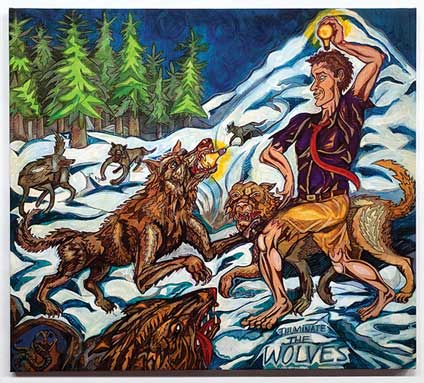 Zack Luchetti was a master of wordplay and irony, his philosophical musings lent delight and play to works that ranged from comics to portraits, commercial art to folkloric dreamscapes, musings on nature, journeys with his best amigos, to mythological references and always, to his Christian faith. This show came to life because of his sad and unexpected death to cancer, leaving a legacy of thought and image as vivid as his presence.
Zack grew up in Oakland, CA, one of three brothers. As oldest and soon to become the tallest (6'4") he assumed creative leadership of the trio, as well as of the neighborhood gang of friends. Everything flowed from his imagination—early stories (he wrote his first book at age 9) films, plays. A voracious reader, he absorbed folklore and myth, tracking Bigfoot and the Yeti through references and his own drawings. A dreamer, he and his classmates threw message bottles into the California current to see how far they would go. Most were swept ashore within weeks, but two years later, Zack's ended up in the Canary Islands. His teacher's comment: "If anyone's bottle could cross two oceans, it would be Zack's."
Always sketching, he began painting at home on the back of his bedroom door. Then scenes on the walls, Finally, a 10ft. by 20-ft. mural of a huge, hairy mammoth on the dining room wall, which still remains, the first of many murals he would create. He had early exposure to art – his father painted, his mother wrote books, photographed and painted, and his grandmother was a painter. Once a year they created "The Art House" out of the family home, where 15 or so artists would show their work, with food and live music.
Travel drew him to Alaska, Peru, Nepal, Mexico, Vietnam, Ireland and Greece. He sketched constantly, preferring life drawing to using photographs. In every country, he could be found surrounded by locals—often children—watching him at work.
His brother remembers him walking 20-ft ahead of the meter maid on College Svenue with a roll of dimes, putting money in the meters about to be ticketed. Zack had a kind, loving heart. He wrote about his quest for a "clean, sane heart."
His influences were many. He credits Barron Storey of San Jose State with showing him image making, and introducing him to the work of Max Ernst, by which he learned how figures could interconnect. He studied with Glenn Hirsch and Leroy Parker, and more. He developed his drawing skills, learned to collage different xerox drawings into compositions, studied computer programs, painted murals, but always returned to life drawing. As a teacher, he took one position teaching ceramics, which he had only a few weeks to learn. He always accepted a challenge, including the martial arts studies of Tai Chi, Xing Y, Shaolin Kung Fu and Chi Gong. He often created with his brother JJ, with his friends Sonny and Django, and with brother Micah.
His art muses included Frank Fazzetta, Moebus, Dore, Posada, Escher, the Brothers Hilldebrand, Frank Miller, Hap Kliban, Archimboldo, Thiebaud, Caravaggio, Bernini, Leonardo, Fra Angelico, NC Wyeth, Pyle, Gaudi, Dali, Magritte, Winslow Homer, Hieronymous Bosh and R.C. Crumb. He also studied stoic philosophy, Epicticus and Marcus Aurelius. He read C.S. Lewis, Irish mythology, Meister Eckhart and William Blake. He read and studied Jung, charting dreams that he would turn into images. Always drawn to books, he began creating his own in the form of zines, called his "dreamic books." He published 20 of them, each featuring a segment of Zack's own adventures. He was the lead character, the "Young Hero" who followed an endless road that stretched across California, connecting to all the places of childhood and youthful memory.
"I am grateful to have grown up in a time where reading and art could come together with the stillness that allows imagination to develop." ~Zack Luchetti
Luchetti accomplished a diverse portfolio of drawings, paintings, commissioned murals and illustrations for print publications. His illustrations have been featured in the Seymour Pioneer Museum, published in Conquer Magazine, and on the back cover of Urban View magazine. His mural work was featured in prominent locations such as the SF Public Library main branch, Alameda Naval Air Museum, California State University and the Mercedes Edwards Theater.
His personal work has been exhibited in a variety of alternative spaces, galleries and museums including the SOMARTS Cultural Center, Southern Exposure Gallery, SF Museum of Modern Art, Museum of Children's Art Oakland, Fresno Museum of Art and in The White House, Washington D.C.
Luchetti received his BS in Graphic Arts and Illustration from San Jose State University in 1998 and later went on to earn his MA in Teaching Credential in Art from California State University,
VIEW & PURCHASE AVAILABLE WORKS ONLINE
Opening reception: March 3, 2023 from 5-9pm
Exhibition dates: March 3–April 15, 2023

Gallery hours:
Thursdays & *Fridays Noon–7pm, (*First Fridays 5-9pm)
Saturdays Noon–5pm