Anno Domini presents...

Primazons by Tyler Cohen – March 4-24, 2005

---
debut solo exhibit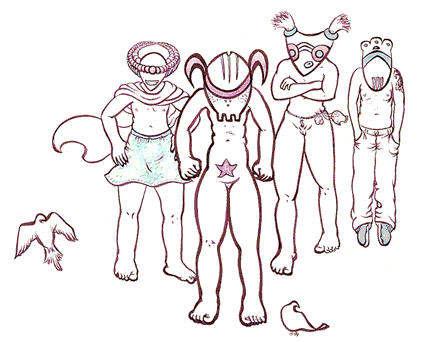 In lieu of the nonexistent women's studies program at University of Chicago, Tyler Cohen received her BA (1986) in interdisciplinary studies with a focus in anthropology, literature, and art.

By luck or determination, this self-taught mini-comics artist returned to school many years later to earn her MFA at California College of the Arts (2004). Anthropology, gender/sex, comics, cartoons, and science/fiction continue and return to be of ongoing interest in her life and in her work. Primazons is her debut solo exhibit.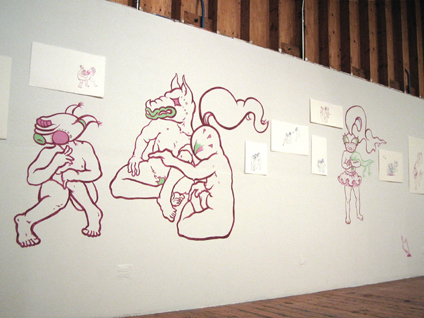 works on paper and site specific installation


"The Primazons are at once beings of their own action and intent as much as they are cartoon space in which to explore questions, thoughts, and feelings regarding such areas as nature/nurture, female relationship(s), evolutionary state, and intergenerational development.

As cartoons, the Primazons exist as engaged narrative, enlivened by the complicit relationship between what is given by the image and what is brought by the "reader." The narrative is, hopefully, one of complexity and, at times, discomfort. Herein there are no clear answers. Enter the realm of the Primazons and enter a surreal, yet familiar space. The reader of this social landscape is put in the position of anthropologist or tourist, moving through territory that is both familiar and foreign–a place that is human, particularly female, yet strange. "Cuteness" and beauty become easy entre to what is actually dangerous and socially complex. Blood, thinned, appears pink; pink, condensed, takes on the threatening, layered significance of blood.

We live in times of change, filled with great potential, but with a foot mired in the past. If we truly hope to grow and evolve, we must look at ourselves, individually, societally and as a species, with honesty and with humor."

~ Tyler Cohen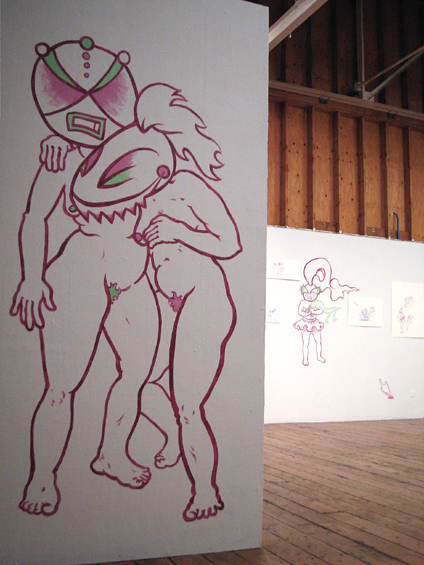 Tyler painted Primazons directly on walls for exhibit installation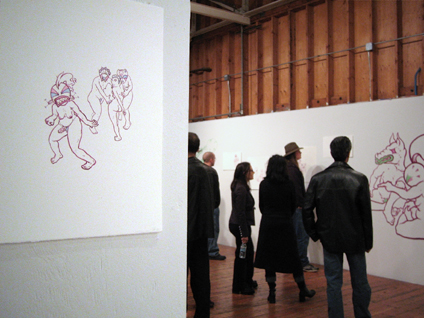 Opening Reception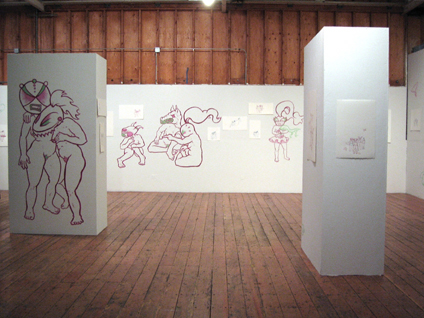 partial installation view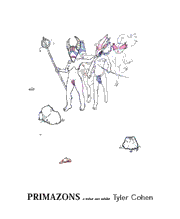 view exhibit catalog
- pdf (948k)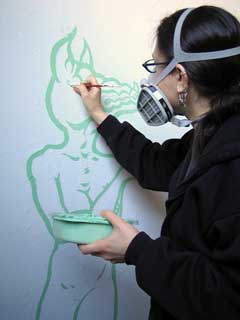 Tyler installing Primazons exhibit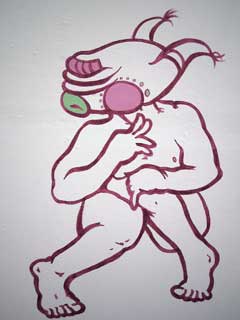 Primazon on gallery wall by Tyler Cohen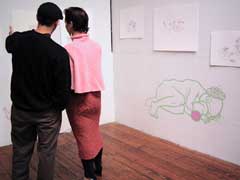 Opening reception



---
Artists' Reception:

First Friday, March 4th, 8 p.m. 'til late

Music by:
FuseOne and Ennui

Admission:
free
Gallery Hours:
M-Th, Noon-5 p.m.
additional hours by appointment
Anno Domini

150 So. Montgomery Street Unit B
(btwn Park & San Fernando)
map
San Jose, CA 95110
t: 408.271.5151 / f: 408.271.5152
www.galleryAD.com
Art • Music • Performance • Life
Get Together.